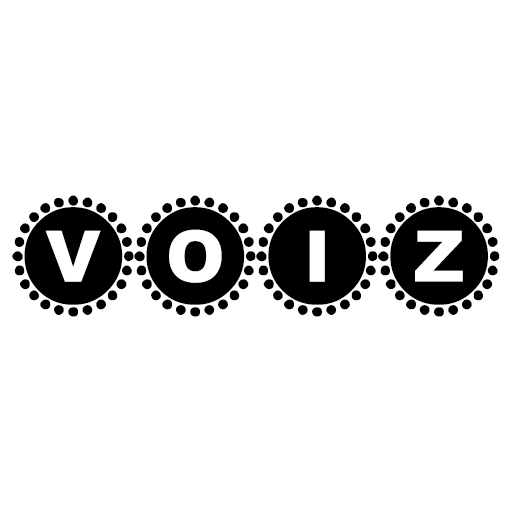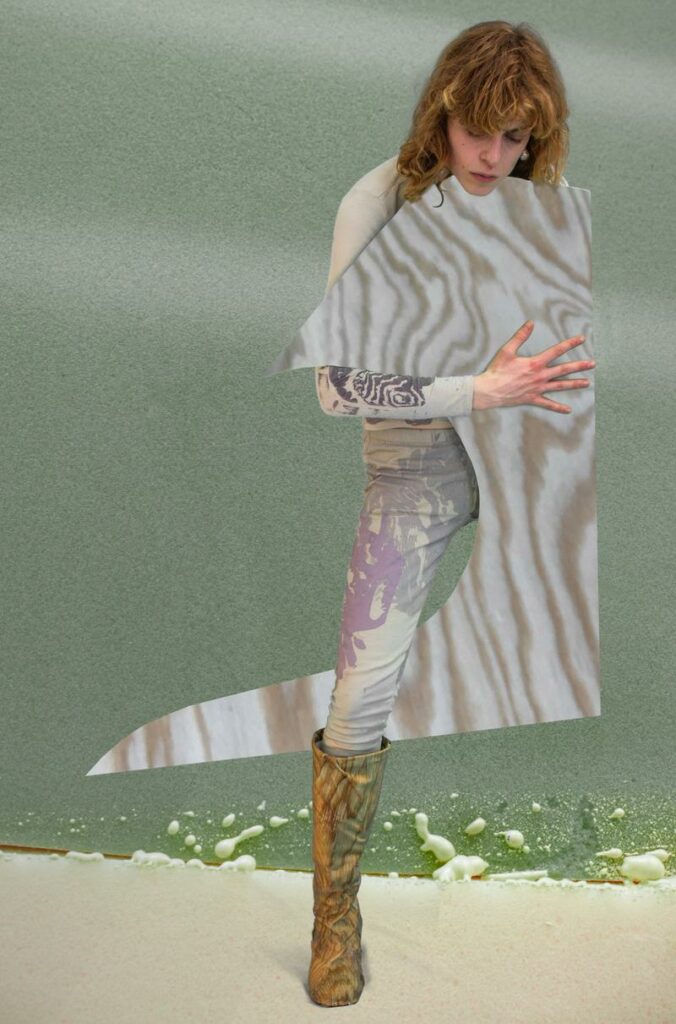 Marta Klara
Marta Klara is an artist, a filmmaker and a funeral director. She works in a multidisciplinary capacity and explores how art and technology enable us to go beyond physical spaces embracing the experience of merging physical objects with digital realms. After her degree in Fine Art from Central Saint Martins, she was selected to join the Sarabande Foundation where she is developing her future-oriented project in the aforementioned fields.
The storytelling of Marta Klara suggests an eclectic union between vanishing rituals of the past and the future of parallel universes.
Her latest work, "ini," is described as a "digital farewell concierge"; or, as Klara more casually calls it: "digital mummification."
The premise is simple: a bereaved party (or someone who wishes to plan for their own death) comes to "ini," in the same way someone would contact a funeral home. Klara would then conduct a series of in-depth conversations about the experiences, memories and details that relate to their loss—"I'd try to understand your stories and get in your shoes," she says. From this, she creates a visual response. The crux of the response is a bespoke virtual reality environment (built using Unreal Engine), which serves as a celebration of the deceased and a place for the bereaved to explore, reflect and process.
Imagine an otherworldly VR experience in which the landscape, sounds, and colors—as well as physical aspects like smells and sensations—are all meticulously curated based on the stories and memories of the deceased. "Since before the Ancient Egyptians, whose conception of death inspired them to build the pyramids, humans have long sought to 'create' around death," reads the deck that explains "ini." "A digital afterlife aims to provide individuals and communities with the closure they seek and need, in order to forge a path forward."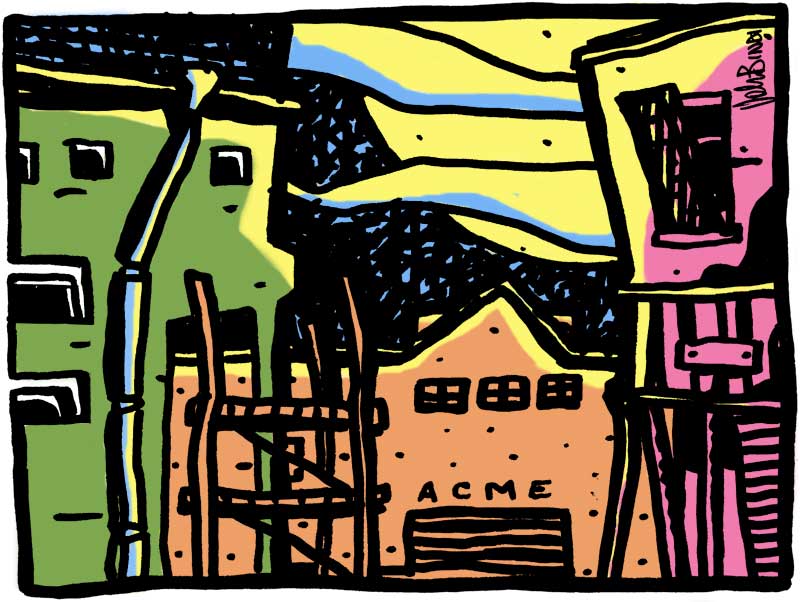 VALERIO BINDI
Architect, cartoonist and university professor of Perception and visual communication and Interaction Design.
Valerio Bindi defines himself as the Anti-Director of Crack !, a historic festival of comics and printed arts that since 2004 has seen the free and free participation of hundreds of artists of all ages from all over the world. Architect, illustrator, author of comics (Graforibelli, Pulp Comix, Zone Temporarily Mutanti, Wonderpark, Condominium), he is part of the SCIATTO group produced since 1990 for the design of hypermedia installations and reversible architecture, a work on urban autonomous areas presented in Italy and in Europe (Praha / Festival 1990; GAEM / Biennal, Sarajevo Rome 1998/99; Venice Biennale, 2000). At the Forte Prenestino in Rome, in addition to organizing the Crack !, he works in the organization of the BaBeL2 festival and the Fortepressa editions. Since the late 1990s he has been teaching temporarily in Design and Multimedia in university and master courses at the University of Rome. He wrote and invented fanzines, books, stories, critical articles and an essay, Digital Animation.
FUMETTI VERTICALI – Documentary
LA RABBIA – Book
Galago Vol. 92 – Book
Bindi, V: Frevel am Altar der heiligen Klara – Book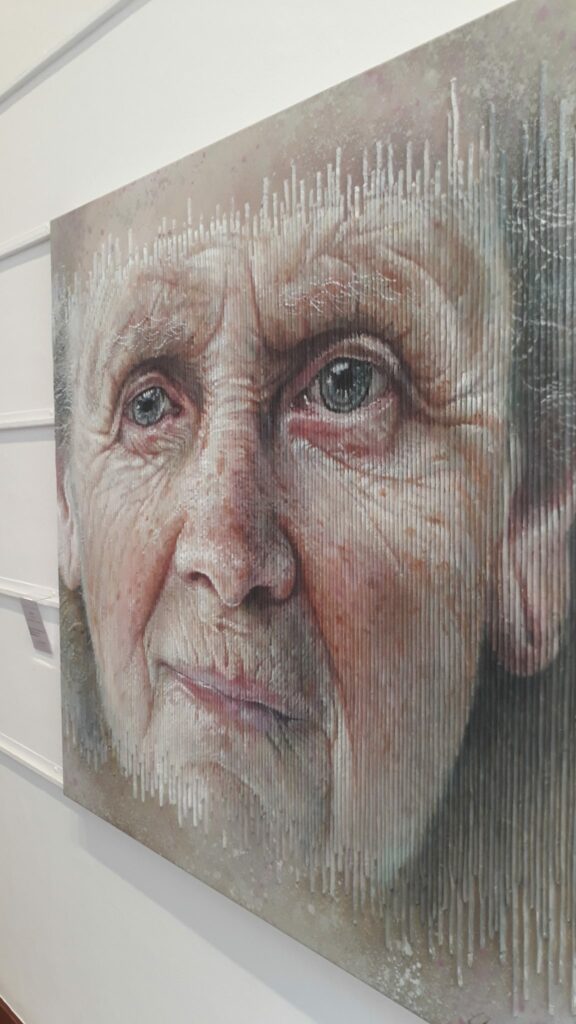 Sergi Cadenas
Painter ( Girona 1972 )

He paints in two dimensions, the two faces change according to the movement of the viewer. Depending on the perspective you can see a young or an old woman, the technique is manual based on creating a lienzo before drawing.
▪️ Quidley_and_co (USA) ▪️ Ode To Art (Singapore) ▪️ Galeria Iturria (Cadaqués) ▪️ Gallery Artmundi (Paris)▪️Jordi Barnadas (Barcelona)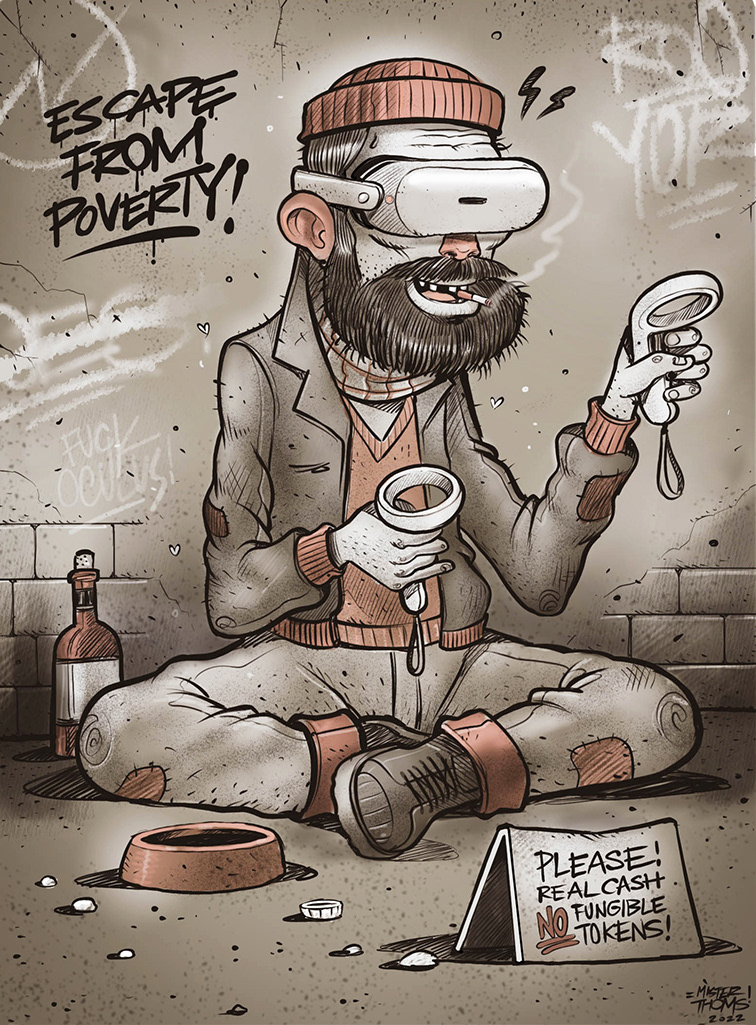 MR THOMS ( Roma 1979 )
Born in Rome, born in 1979, Mister Thoms began to paint Graffiti in 1996 and is currently one of the best known Italian street artists.
Its very name evokes an onomatopoeic sound that suggests the elasticity of its art: Mr.Thoms, the real name of Diego della Posta, is actually a multifaceted artist who expresses himself not only through Street Art, but also through painting, llustration and graphic design, in a constant search for balance between the ironic mood and the expressive concept.
Mr.Thoms plays with bright colors and geometric shapes to create movement. The walls where he works have a direct influence on his subject. His great understanding of architecture and body language allow him to capture the essence of his characters.
This is what defines Mr.Thoms skills, his ability to represent movement on the walls, but at the same time express a concept, sending a message on which to reflect in an ironic way.
Active in the street art scene, he participates in urban art events and festivals all over the world, Italy, England,New York Denmark, Hong Kong .Germany, Russia, California, Mexico, Portugal and Spain,spreading his ironic and cutting style.His talent is to transform ordinary places into extraordinary places.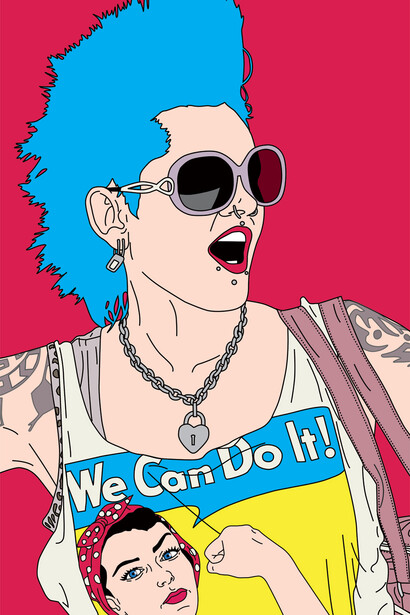 María María Acha-Kutscher
María María Acha-Kutscher is a Peruvian militant feminist visual artist living in Spain. She is co-director with Tomás Ruiz-Rivas of the experimental project Antimuseo. She lives in Madrid and works globally. Her work centers on the women, their story, the struggles for emancipation and equality, and the cultural construction of femininity. Using multiple modes of expression such as drawing, photography and archive images, Acha-Kutscher produces long research pieces dealing with gender discrimination. Putting the patriarchal system under the microscope, her work becomes not only an instrument for political struggle but also a testament to the concerns and demands of today's feminist movements.
Acha-Kutscher is represented by ADN Galería, Barcelona, Spain.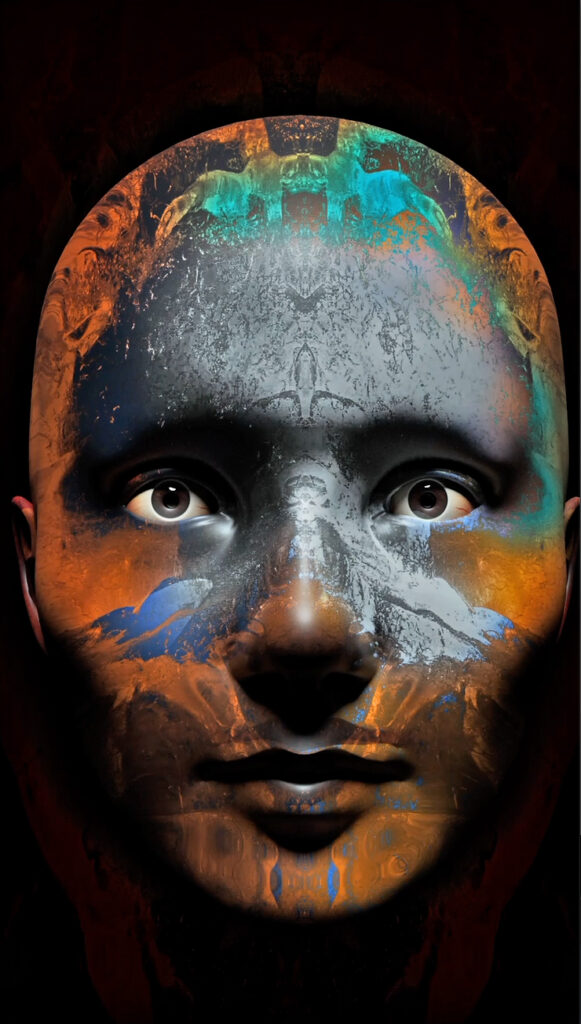 SONYA PAYES
( Australian Visual Artist )
Sonia Payes is an Australian artist working with photography, multi-media, animation and sculpture, based in Melbourne, Australia. A strong environmental narrative permeates Payes's works and the cycle of re-creation is explored in her wildly dystopian landscapes, portraits and sculptures.

Payes has exhibited in public and private galleries including museums nationally and internationally; Represented in numerous public galleries and private collections in Australia, Shanghai, Beijing, Switzerland, London, Belgium and United States of America. Payes has participated in many Art Fairs, most recently 2019 Sydney Contemporary, Carriageworks, NSW, Australia.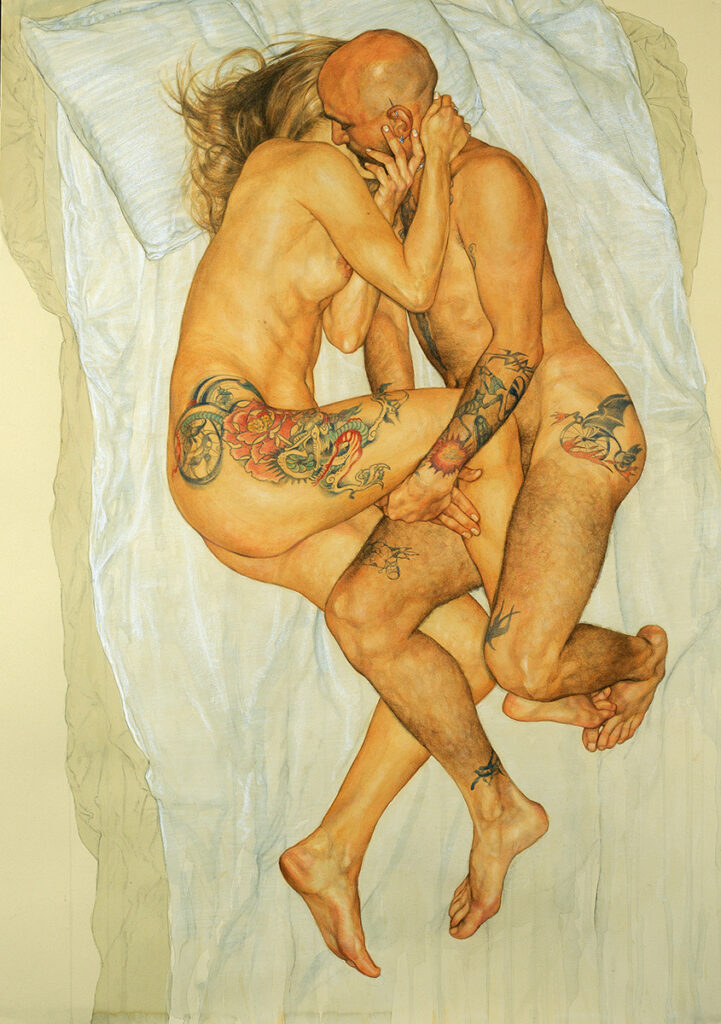 RICCARDO MANNELLI
Hasta mañana mi amor
Born in Pistoia (1955) he has lived in Rome since 1977; since 1975 he has been collaborating with the national and international press; since 1980 he has been making reportages drawn around the world. He is the protagonist of the major European satirical newspapers (L' Echo des Savanes, Humour. Cuore, Satyricon, etc.) Some of which he directs, or participates in the foundation (Il Male,, Boxer, Il Cuore). He works for La Repubblica and Il Fatto Quotidiano and with other newspapers, including foreign ones. He publishes several books, the last of which in 2013 "End pen never". At the same time he has developed a personal pictorial research, documented in various exhibitions and catalogues, among which results: the pictorial cycle of sixty works Commedia in Z.E.R.O. (catalog); the virtual frieze projected onto the Ara Pacis Apotheosis of the corrupt, from which the homonymous book was born; with Jan Saudek Teneri Barbari (catalogue). In 2011 he was invited to the 54th Venice Biennale, in the Italian Pavilion. Also in 2011 he exhibited the entire Comedy cycle IN Z.E.R.O. at the Spoleto Festival (catalogue). In 2012 he published for Tricromia the art book "A." and holds the personal "Notes for the reconstruction of beauty" at the Gagliardi Gallery in San Gimignano. In 2015 he held a two-person exhibition at the Philobiblon Gallery "ROPS + MANNELLI" (catalogue); the same exhibition is transferred from March to June to the Palazzo Ducale in Urbino, curated by Vittorio Sgarbi. In January and February 2016 he held a personal exhibition at the Building Bridges Art Exchange in Los Angeles (catalogue). He teaches at the European Institute of Design (IED) in Rome where he coordinates the department of Illustration and Animation.